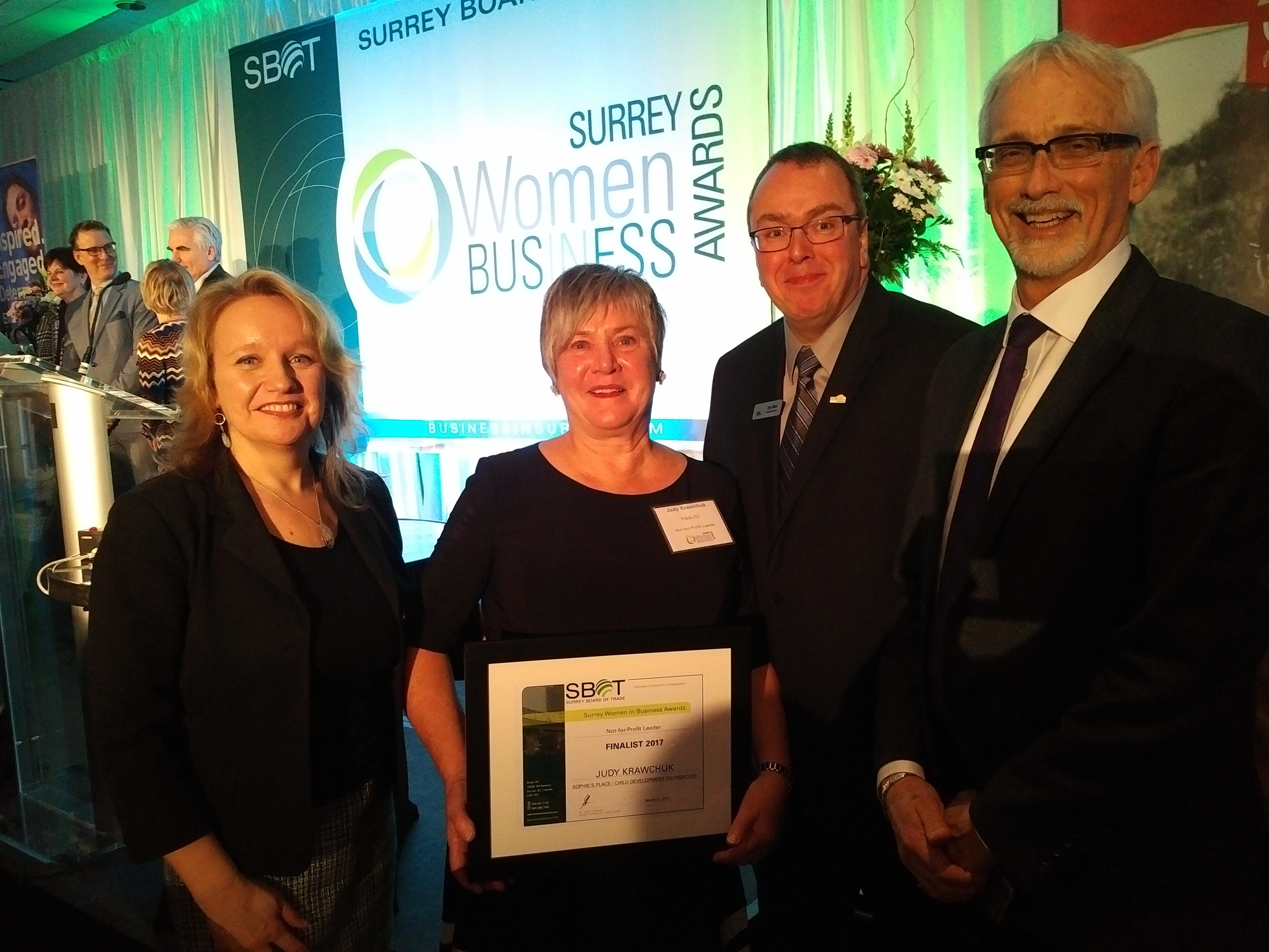 (Pictured: Lenore Rattray, Judy Krawchuk, Board Chair Tony Miles, Past Board Chair James Stewart)
The Surrey Women in Business Awards Luncheon celebrates the hard work of Surrey's businesswomen and their contributions to Surrey. Judy Krawchuk was recognized as a finalist in the Not for Profit Leader category at the event, held at the Sheraton Guildford.
Judy has been with The Centre for Child Development for 18 years and performs two key roles: Vice President of the Child Development Foundation of BC and Director of Sophie's Place Child and Youth Advocacy Centre.
Through the Foundation, Judy has built The Centre's annual events from the ground up and continues to evolve and innovate to ensure the ongoing success of these fundraisers.   Last year's Gala of Hope raised $312,000, enabling The Centre's programs to continue to help children reach their potential.
"I am continually impressed with Judy's exceptional ability to engage people of all backgrounds in the service of our children and families," says Gerard Bremault, MSW, RSW, Chief Executive Officer of The Centre for Child Development and Sophie's Place. "She always finds a way to meet and exceed her goals with positivity and grace."
Judy was involved from the inception of Sophie's Place Child and Youth Advocacy Centre. Sophie's Place brings together a multi-disciplinary team that works with children who have experienced abuse in a child-friendly space. As the Director, Judy is a key player in the program's ongoing success and growth. "Without Judy's exceptional efforts, Sophie's Place would simply not exist," says Bremault.
The awards ceremony hosted approximately 450 guests and Margaret Trudeau was the highly anticipated keynote speaker.